May 7, 2022
Fortnite v20.30-CL-20037261 Chapter 3 Season 3
Fortnite is an online game developed by Epic Games and released in 2017. It is available in three game mode versions. Fortnite: Save the World is a cooperative shooter-survival game for up to four players to fight off zombie-like creatures and defend objects with fortifications they can build. This Battle Royale game is free-to-play and up to 100 players will fight to be the last person standing.
Fortnite Creative is where players are given complete freedom to create worlds and battle arenas.
Fortnite Chapter 2 season 1 is here and there are a few changes that will be noticeable right off the bat. The biggest and the most obvious change in Chapter 2 is the game's new map. The new map still has the same style of hills and forests, but there are now other natural features like rivers that split up the map. To make navigating these rivers a little easier, Epic has also added a new boat vehicle.
In the first two modes, players can use a pickaxe to knock down existing structures on the map to collect basic resources that are wood, brick and metal. Subsequently, in all modes, the player can use these materials to build fortifications with things such as walls, floors and stairs. Such fortification pieces can be edited to add things like doors or windows. The materials used have different durability properties and can be updated to stronger variants using more materials of the same type. In Battle Royale, this provides the means to quickly traverse the map and protect yourself from enemy fire or to delay an advancing foe. Players are encouraged to be very creative in designing their fortifications.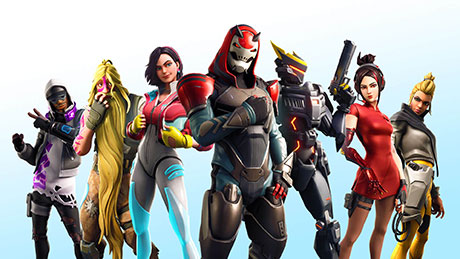 Review:

Fortnite probably has no need for an introduction by now. Chances are you either play it yourself or know plenty of people who do. As you know, 100 users hop on the Battle Bus, parachute down to a continuously shrinking map and compete to be the last player or team standing. The building mechanic is still Fortnite's most innovative feature. The lack of blood and gore makes Fortnite more child-friendly than other shooters like PUBG and Apex Legends .
While Fortnite still keeps its battles confined to a single map, variety comes in the form of seasonal updates and transformations which apply to all players. While one season brought about an ice age with snow storm, another has added flyable aircraft.
Tips And Tricks :
Be paranoid
Use headphones
Limit the sound you make
The circle is all that matters
Drink shield potions immediately
Play For Free on PC, PlayStation 4, and Xbox One
Game Informations :

Initial release date: July 25, 2017
Designer: Darren Sugg
Publisher: Epic Games
Developers: Epic Games, People Can Fly
Platforms: Android, PlayStation 4, Nintendo Switch, Xbox One, iOS, Microsoft Windows, Macintosh operating systems
Awards: Teen Choice Award for Choice Video Game